Back to School: Google Drive Digital Interactive Notebooks
Back to school is fast approaching and I'm already thinking and planning ahead to my first few weeks of school. I absolutely love to get to know my students and have found that they enjoy talking about themselves and their families too! With the level of rigor expected in most classrooms today, once the school year starts it is a fast-paced race to the tests. Why not make the first couple of weeks stress-free and fun.
I have yet to meet a student that doesn't love it when I break out the iPad during our sessions. Technology is what they love so why not use it to our advantage. My first week of therapy will be spent getting better acquainted and I will have my students create a Digital All About Me Interactive Notebook. This will be a hands-on NO PREP way for them to tell me about their interests, families, pets, academic goals, personal goals, and much more. This will be the inventory I need to help shape and guide future sessions – more to come on that topic later.
We all know how busy the back to school rush can be. With scheduling, planning, organizing, and so many other tasks it is imperative to maximize our time to reduce the stress level. The digital nature of these notebooks are definite timesavers because they are online which means, no need to print, cut, paste, laminate, or prep. Keep in mind that if you do want a hard copy of the notebooks for your students to share, they could be printed, but my personal preference is to encourage them to share them online. Sharing online can easily be done using Google Drive™ and a computer, laptop, tablet, iPad, or even Smartphone. I use this activity during the first week of therapy to familiarize my students with the technology and teach the basics of drag-and-drop, typing in text boxes, and maneuvering around the platform (using the whiteboard features, drawing tools, stamps, spinners, etc). Kiddos today are so tech savvy and catch on very quickly!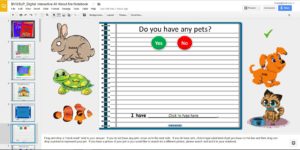 To get started, visit my TPT store to purchase the All About Me Digital Interactive Notebook. It comes with a complete step by step guide on how to get it set up for 1:1 Google Drive classrooms, small group, and whole group instruction. This notebook has moveable pieces and is fully customizable. Encourage your students to bring in pictures of their families, pets, and of themselves doing things they love (sports, hobbies, etc). Their pictures can either be scanned in or you could simply snap a pic using your Smartphone and upload it to your Google Drive to be added directly to the student's notebook.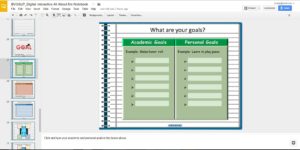 If your students don't bring in pictures or you prefer to skip this step, no worries, the notebooks can still be customized for each individual student. There are instructions on each page and step by step directions on how to search for images directly within Google Drive to add to their notebooks. For instance, if they love baseball, they can easily search for an image of baseball or find a pic of their favorite baseball team to make their notebooks unique.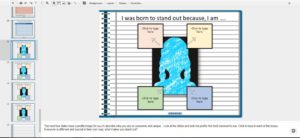 This lesson is intended to be fun, engaging, and interactive. Be creative and enjoy this lesson while getting to know your students in the process!
Take a look at this video to get a better idea of how this lesson can be used with your students. There are so many possibilities to customize this lesson and best of all, it can be shared digitally with friends and family.