Boom Cards, Why I LOVE Them!
If you haven't heard of Boom Cards™, I wanted to share with you what they are, and the reasons why I have fallen in LOVE with them.  I stumbled upon Boom Learning℠ a few weeks ago while searching Pinterest for digital resources.  A quick visit to their website and I was very intrigued.  Boom Learning is a site that allows teachers and educators to create interactive resources, very similar to task cards, for use in their classrooms.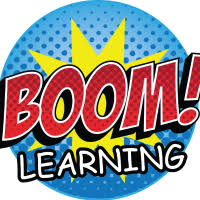 The interactive digital cards are so cool!!  They're very easy to make and once created, you have a fun engaging way to address a variety of concepts while students feel like they are playing a game.  The Boom Cards provide immediate auditory and visual feedback to students and best of all, they are self-grading!  Yes, that's right, once students have completed a Boom Card activity their scores are presented as a percent accuracy to easily assess overall comprehension of the target skill.  This saves so much time because you can simply record the scores into your grade books for effortless progress monitoring.
Creating a Boom Learning Account
Setting up an account with Boom Learning is very simple and FREE! If you're not the creative type or don't have the time to create your own cards no worries, there is a long list of teacher created resources already on the site available to purchase.  I love to create resources so I decided to give it a try and I've created my very first Boom Card activity (whoop, whoop).
For me, it's easiest to work in PowerPoint so I created my Answering Yes/No Questions activity in PowerPoint first and converted it over to my Boom Learning account (there is a great tutorial video on their website that will walk you through this process).  Once converted, I added my interactive elements to allow my students to easily click the Yes/No buttons in response to the questions on each card.  I opted to provide immediate feedback and voila, my first Boom Card lesson was complete.
For classroom teachers, this particular lesson is not only an awesome way to work on vocabulary with your youngest scholars, it's also a great differentiated activity for your ESL/EFL students and for your students who may need a little extra support.  For all my SLPs, this lesson is perfect for your pediatric clients working on answering yes/no questions and vocabulary naming.  If you work with adult clients, this is also an interactive alternative to picture cards for targeting goals related to Aphasia, following a CVA or TBI.  As a parent, I use this lesson to reinforce vocabulary and put a twist on to it challenge my youngest son to formulate simple sentences using the target vocabulary words.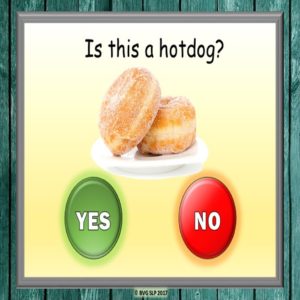 Boom Cards are compatible with computers, tablets, iPads, interactive whiteboards, and Smartphones.  They can be used during whole group instruction for a fun class activity, during small group literacy centers, for speech teletherapy remote sessions, and are great for 1:1 digital classrooms. I really love the endless possibilities of Boom Cards and am currently working on a complete Boom Card series that can be used for a wide variety of targets. Please stay tuned for more fun engaging ways to motivate your students, children, and adult clients.  If you are not already following my Store please be sure to follow to get the latest updates on new products, promotions, and sales.
To learn more about Boom Learning or to register for your free account click here.
Disclaimer: BVG SLP is not affiliated with nor endorsed by Boom Learning℠. Both Boom Learning℠ and Boom Cards™ are registered trademarks of Boom Learning, Inc. Logo and names used with permission.