Putting the BOOM into Differentiation!
It has been about a year since I wrote this guest blog post for Rachel Lynette of Minds in Bloom. Since then, it has been republished on Boom Learnings' Blog and I want to publish it here too with a little update. My students still are so incredibly motivated by Boom Cards and are asking for them every session. I have over 65 decks that address language, literacy, articulation, following directions, phonemic awareness, sequencing, story retell, and MUCH MORE! I feel like pictures are worth a thousand words and therefore, videos are worth a million. Be sure to view the video below for a glimpse into how interactive, fun, and motivating Boom Cards really are.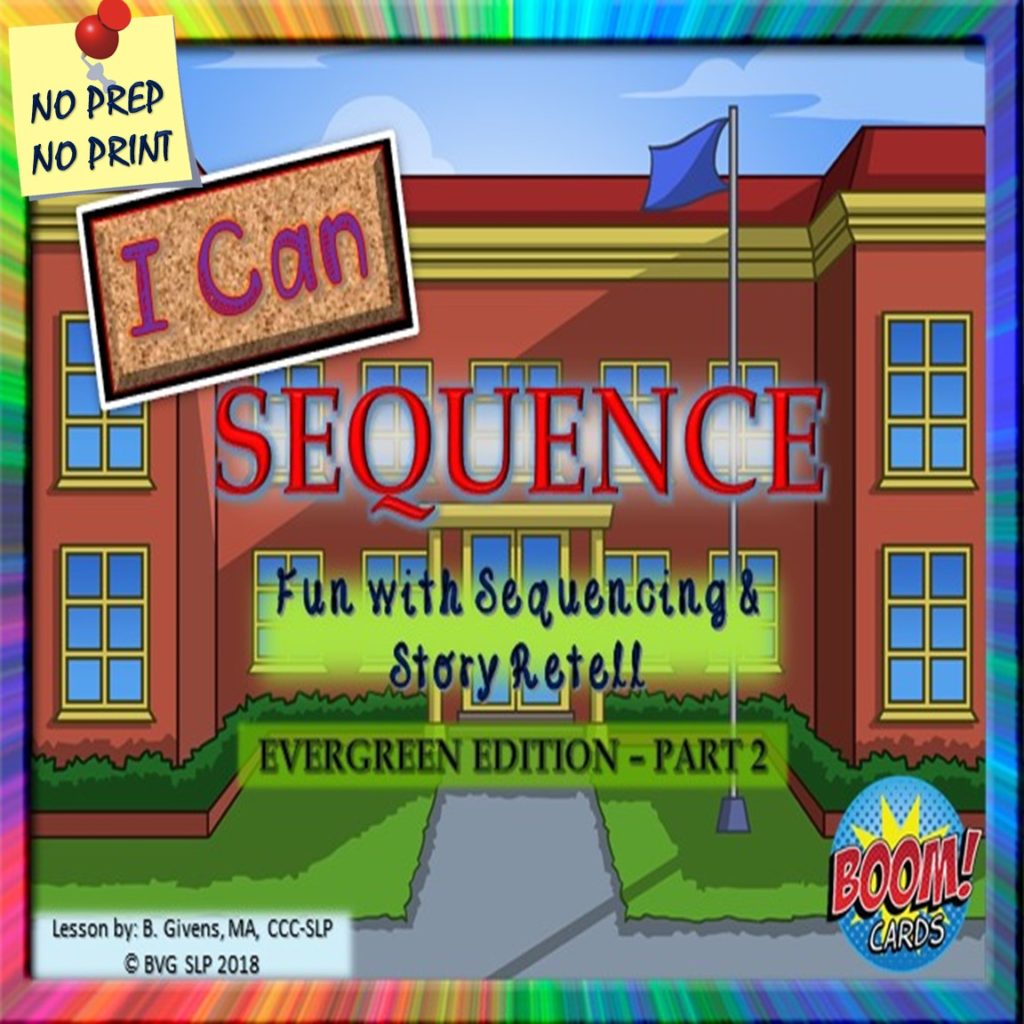 We've all been there, small group intensive instruction and every student in the group is on a different level. You have a student who is answering all the questions, eager to participate and excited about learning, then there is the student who gets it but doesn't really feel confident participating because they are not quite sure of their responses, and of course, a student (or two) who is completely lost and instead of asking for clarification, tries to defer the attention away from themselves by exhibiting distracting behaviors to interfere with others. This is the challenge that we frequently face and our mission is to differentiate or modify our lessons in such a way that we capture and motivate every student in the group. We want to provide a level of rigor that challenges our highest scholar while still presenting the material in a manner that intrigues, motivates, and encourages our lowest level scholar to begin to connect the dots.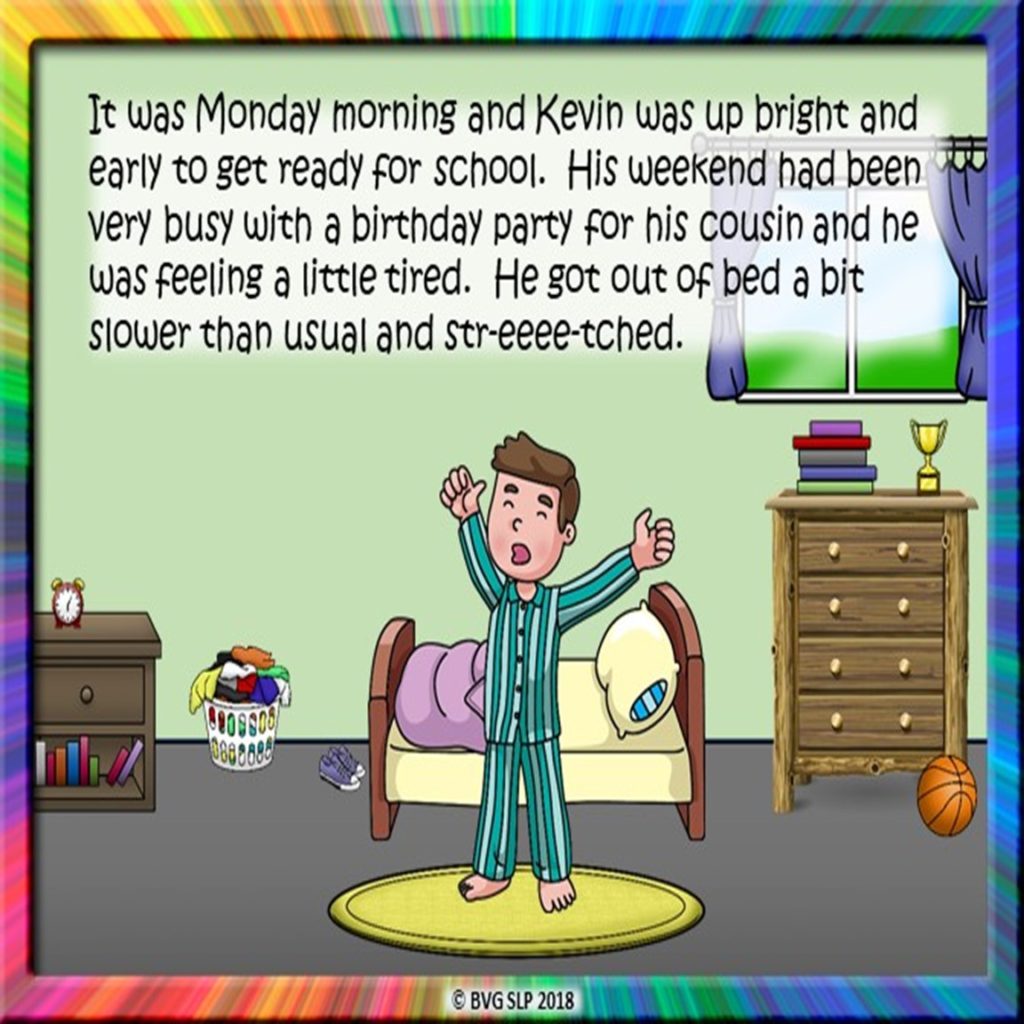 From my personal experience, I have come to realize that I get the best outcomes from my students when they are having fun and actively interacting with the content. Kids today love technology and by incorporating it into my lessons my students come alive and get excited about learning. I strongly feel that learning should be fun in order to keep students motivated and to ultimately foster a life long love of learning. When I think back to my school age years, the teachers that I remember most are the ones who were creative and who put forth their best efforts to offer a learning environment that was full of fun and engaging resources. Fast forward to the 21st century classroom and it is absolutely imperative to stay on the cutting edge of technology – from digital interactive notebooks to digital self-grading task cards – there are infinite possibilities to differentiate your instruction digitally, while captivating and motivating your students.
The discovery of BOOM Cards™ has really been a game changer for me and my small group sessions. If you haven't heard of Boom Cards yet, trust me when I tell you, they are EXPLODING into the world of education! My students are so eager and excited by them, that they have even started to request them for homework. When we as educators can excite our students to a level that they are enthusiastic about learning, we have hit the jackpot and that's the way I feel when my students begin to request homework. Boom Cards are digital interactive task cards that display on Smartboards for whole group instruction, computers, tablets, and iPads for small group lessons, and they can also be played on Smartphones for independent reinforcement. I have been busy creating Boom Cards to address a wide range of language and literacy concepts in a fun and interactive way. Below is a quick peek at one of my decks from my Evergreen Sequencing and Story Retell Series:
What I really appreciate most about Boom Cards is the fact that I design them to be presented to my students in small digestible bites, they have visual cues built in to aid in comprehension, they incorporate technology (which is very motivating), they can be read aloud to students who need extra support or you can challenge your students to demonstrate their ability to read, comprehend, and independently complete the task on each card. I also love the fact that my students receive immediate feedback and the cards are SELF-GRADING! This saves me a tremendous amount of time with progress monitoring and allows me to easily pinpoint the areas that my students are struggling with most, so I can offer increased repetitions and opportunities to master specific skills.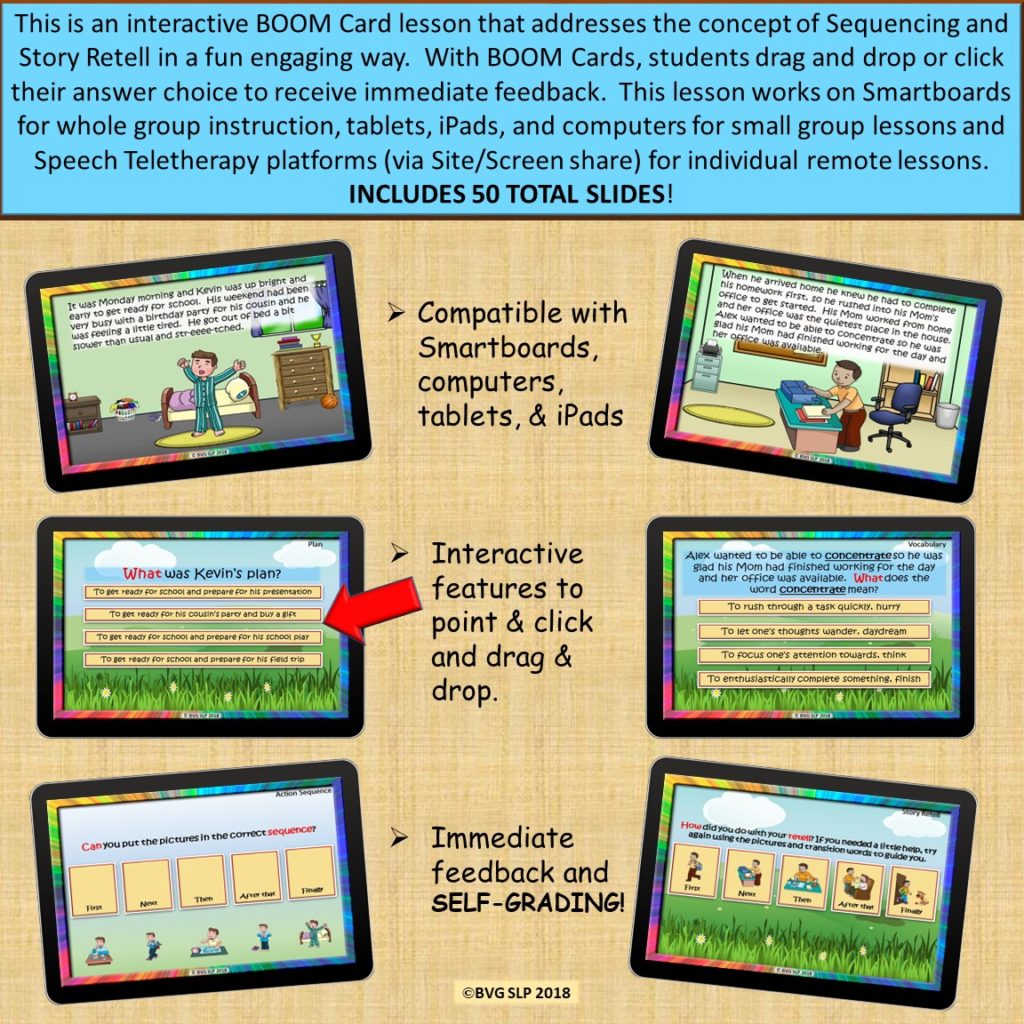 Within small groups, I facilitate my Boom Card lessons in such a way that every student is challenged regardless of their skill level. The interactive nature of the cards (point and click, drag and drop, and fill-in the blanks) naturally reinforce learning in a way that keeps my students motivated and I spend the entire session focused on targeting important concepts and don't have to devote time to external reward systems. When my students are excited, it certainly shows in the area that matters most and that is – better measurable outcomes. The increased attention level demonstrated by my students when using Boom Cards results in improved carryover from one session to the next and therefore we spend less time reviewing and more time on compounded growth.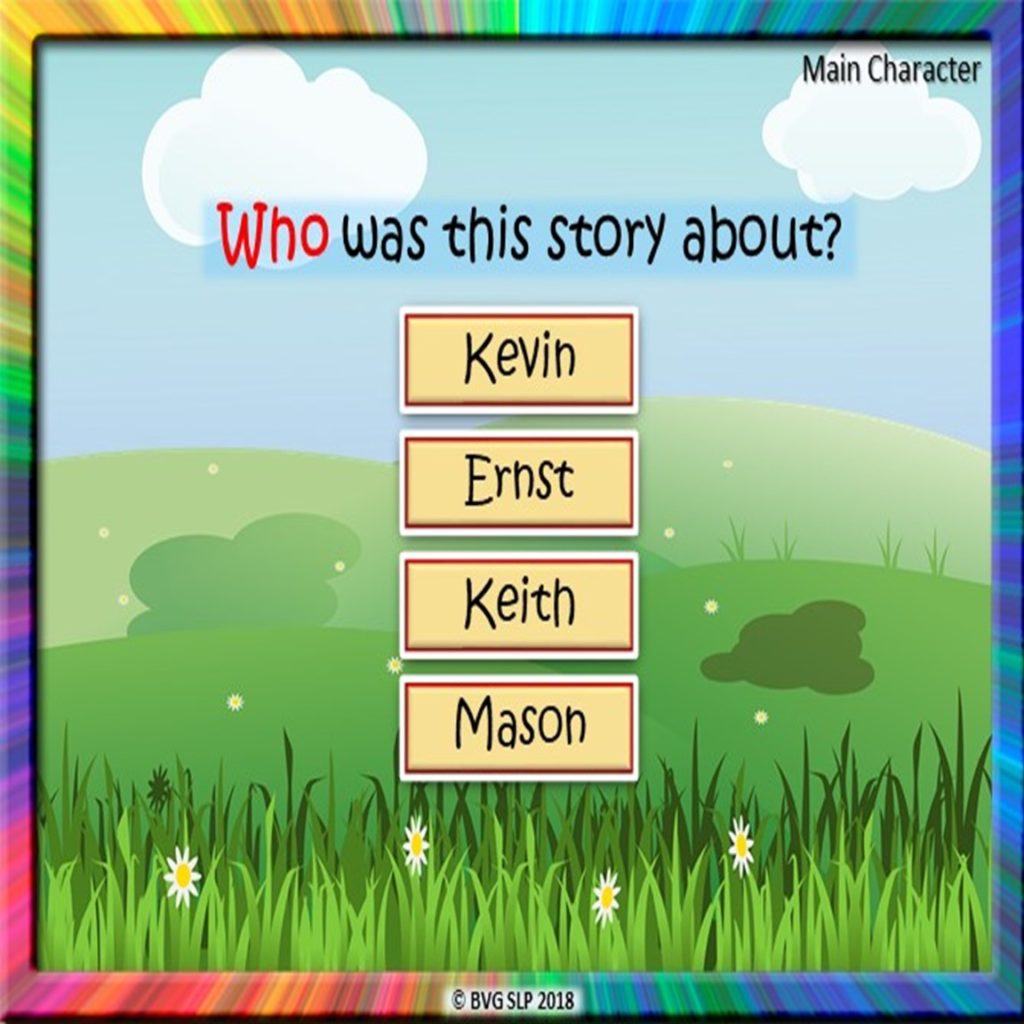 Whether you are a classroom teacher, ESE teacher, or Speech Language Pathologist we all share a common thread – we want to see growth and progress in ALL of our students. As a reading endorsed Speech Language Pathologist, my passion is language and literacy. I make a conscious effort to incorporate literacy into every session to maximize the time I have with my students. With the level of rigor that is expected from them in today's classroom, I want to ensure that they thoroughly understand that what we do in our small group sessions is to better equip them with the tools they need to be successful in the classroom and beyond. For this reason, I have started a complete series of Boom Cards that target a wide variety of language and literacy concepts in each deck. My Sequencing and Story Retell Boom Card Series is designed to address sequencing, identification of story elements, answering wh questions, auditory comprehension, reading comprehension, vocabulary, use of context clues, and story retell. They are differentiated to encourage active participation from all students in a fun and engaging way.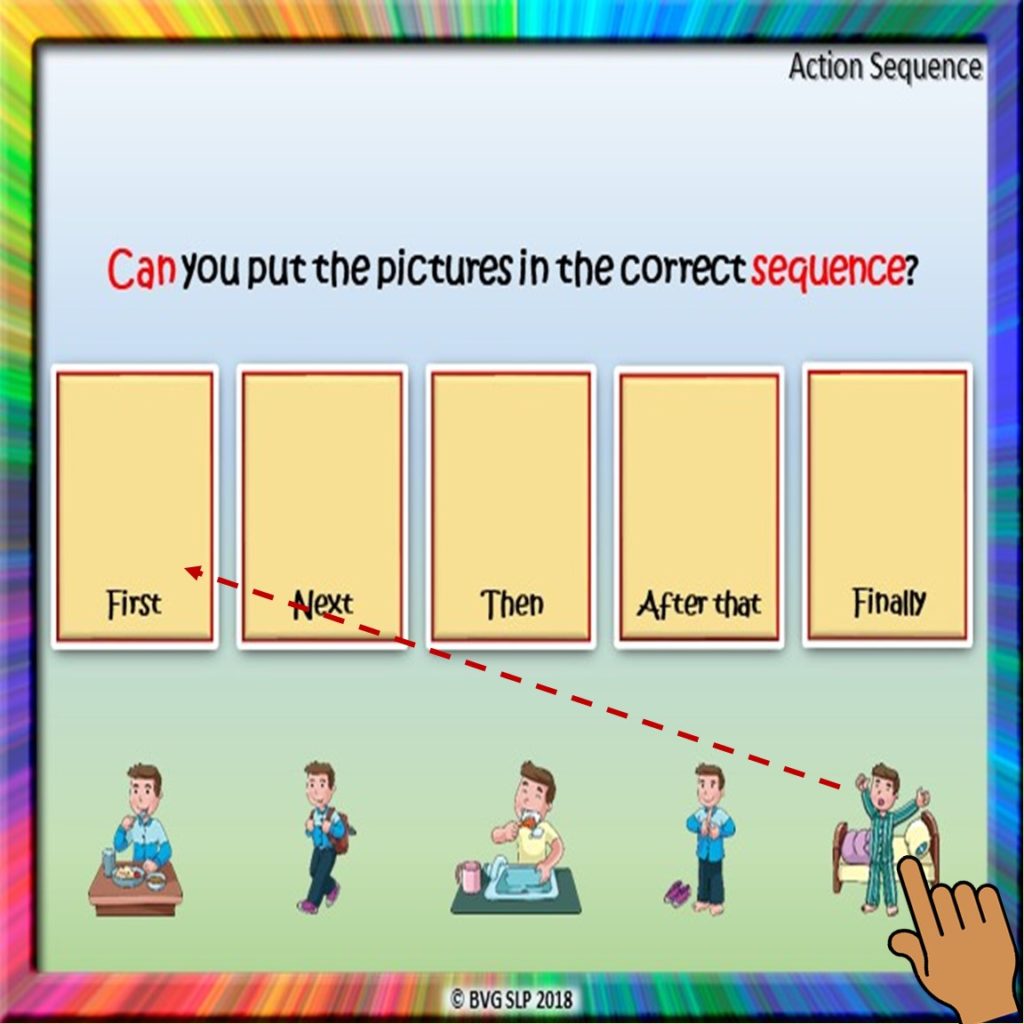 To help build the foundation for strong readers, I also have several Boom Card decks that address important introductory skills from rhyming words, phonemic awareness, sight words, synonyms, antonyms, vocabulary and much more! Every deck that I create is designed with a focus on differentiation and can be used during whole group lessons, small group intensive instruction, 1:1 sessions, or independent assessment. My newest Animated Vocabulary Series has really been a huge hit with my students because it incorporates animations into the instruction which really offers an added level of differentiation. Again, I strongly feel pictures are worth a thousand words and therefore animations/videos are worth a million! To find more of my digital interactive lessons, please visit my Boom Learning store HERE.
Disclaimer: BVG SLP is not affiliated with nor endorsed by Boom Learning℠ or Minds in Bloom. Both Boom Learning℠ and Boom Cards™ are registered trademarks of Boom Learning, Inc. Logo and names used with permission.