7 Ways to Decompress this Summer!
Seven Ways to Decompress this Summer!
The summer is in full swing, and as a Florida girl, this is most evident by the longer days (LOVE), increased humidity (terrible for my hair), sweltering heat (too hot), and afternoon showers EVERY afternoon (start your days early)! I have come to appreciate my summers more and more each year now that I have them off and can spend some much-needed quality time with my kiddos. They are growing up WAY too fast and I really want to take advantage of our time together while they are still young and want to spend time with their parents, lol.
Just to give you a little background on me (if you don't have the time or would rather get to the GOOD stuff just scroll down to number one below), I started my Speech-Language Pathology career off working with adult clients in Skilled Nursing Facilities, Assisted Living Facilities, and in Home Health. It was a deliberate decision because I really was intrigued by the medical aspect of this field and it turned out to be an AWESOME introduction into the world of Speech-Language Pathology. As much as I LOVED working with adults, I was feeling the strain of working year round as my family started to grow.
Once I had baby number three it became very evident to me that being on my kids' schedule was an absolute must. So I ventured into the school setting as a school-based SLP, it was so nice to be off when my kids were off. What I quickly learned, and those of you working in the schools can relate, the summers off really aren't what they seem. The amount of work that gets condensed into a 10 month school year is incredibly exhausting and the 2 months over the summer are required in order to recharge our batteries. Now that I work as a teletherapist, the stress is considerably less but it still is a lot of work to be done in a 10-month window. The 2 months of summer vacay can fly by too quickly without a little planning in place. I make it a point to decompress, recharge, and relax over the break and these are seven ways that work great for me and my family.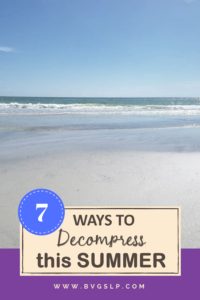 1. Less Screen Time
This is an absolute must for me. Working as a teletherapist means I spend about 8 hours, or more, in front of my computer daily. I look forward to being able to go DAYS without even turning on my computer during the summer months. Not only do my eyes enjoy this break but so does my mind and body. We are such a connected world these days that we spend so much time with a device, of some sort, in hand. I have three boys who love their PS4 (better known as Fortnite), iPads, and tablets. During the school year the rule in our house is NO DEVICES during the week, only on the weekends. So for my boys when the summer arrives I do allow them to use their devices more than during the school year but we do have limitations to ensure that they really get the most out of their break too. They moan and groan at first but get excited by our family game nights and mommy being more present to have fun with them AWAY from the computer.
2. Beachin' It
As I mentioned earlier, I'm a Florida girl born and raised! One of my happiest memories of family time was trips to the beach. Growing up in Central Florida meant Daytona Beach was our summer hangout. As an adult, not much has changed, I still LOVE the beach. It is my happy place. Fortunately for me, I married an avid fisherman who would fish in the salt waters of the ocean everyday if he could so going to the beach is something the whole family enjoys! The picture you see at the top of this post was taken this summer (2018) during one of our visits to Indian Shores (a west coast FL beach south of Clearwater). We have made it a mission to discover new beaches every summer because although both my husband and I are Florida natives, there are soooo many beaches right here in our backyard that we have yet to see. I will keep adding beach pictures to this post as we discover new Florida beauties!
3. Read for Fun
This one is a no-brainer for me. I love reading and have found that these days with my family and crazy busy schedule I don't get to enjoy it as much as I would like. We read children's books daily but I would love to cuddle up with a good book and read before bed most nights, unfortunately, exhaustion sets in before I can even get past the first couple pages. A good book for me is always on the list for the summer (I'm open to suggestions so please feel free to comment below with your best picks). I really enjoy reading with, and to, my boys. My oldest is 12 and we were fortunate enough to meet author James Ponti during Literacy Night at his school this year. Mr. Ponti had such an inspirational story that he quickly captured the audience of middle-schoolers, which is not an easy feat! After his funny and inspiring presentation, we purchased three of his novels and plan to read them aloud together, this is fun for both me and my kiddos. I want to take full advantage of their interest and create a love of reading in each of them before they no longer want to hear their Mom read, thank goodness we're not there yet.
4. Learn Something New
I love to learn and will be a lifelong student for sure. Whenever I can venture into learning something new it not only challenges my brain but it puts me in a position to really feel good about my accomplishment once I've mastered it. My role as a teletherapist has awakened a passion in me that I didn't even realize was there and that is, creating digital resources. I not only enjoy it, I get very excited to share materials I have created with my students and see their enthusiasm. I know the summer is for decompressing and focusing on ME time but I'm always planning for the next school year (even if it's only in my head for the first several weeks of the break). Trying to stay abreast of what's new and innovative in the world of digital resources is important to me, so I will be researching and learning ways to improve upon my current materials. I also would like to be more knowledgeable about creating video previews to help show others how I use the resources with my students. My oldest is very good at creating videos and makes it look SO EASY that he is going to teach his Mama something new this summer. What would literally take me a couple days to do he does effortlessly in about an hour! So he will need to be patient as he teaches me how to create video previews.
5. Get Some Exercise, Outside
I can say that during the school year there are days that I feel very Vitamin-D deprived, even in Florida. Exercising is always a great way to destress and I would love to do more of it during the year but find that I really get to REV it up during the summer. I have recently started doing 5Ks, my first was a few months ago and I really loved how I felt once I completed it. So much so that I quickly registered for another one and will be doing my third one at the end of this month! Being outside in the fresh air, first thing in the morning, is such a great way to get your mind, body, and soul in shape. Not only have I come to love doing them but it has turned into a family (aunt, cousins, brother) affair which is even more enjoyable and motivating. I'm going to recruit my husband to join in on them soon too, I hope (working on it)!
6. Play
Yes, this is one of my FAVORITES. Playing and hearing my kids laugh while we play is truly an amazing way to recharge. When I was a kid, playing outside every day was the norm all year round (from kick ball, to Hide and Go Seek, to 'Mother May I', 'Red Light, Green Light, hopscotch and so many others). I certainly try to instill this same love of playing outside in my kids. They do love it and instead of sending them out to play amongst themselves, we go out together during the summer and make the most of our longer days. Here in Florida, most summer days are too hot to play outside for long periods of time, but after the afternoon shower, it's a great time to enjoy those final hours of the day playing! I'm a kid at heart and being silly and goofy outside with my kiddos is loads of fun for me and them.
7. Craft (i.e. Create Something)
And my final way to destress and recharge my battery over the summer is (drum roll, please)…CRAFTING! Anytime I can break out my craft box, and especially my glue gun, is a happy day for me. I do a lot of kid crafting with my boys over the summer. This not only keeps them off the devices, it also taps into their creativity. I really enjoy my adult crafts too! I have taken a huge interest in creating mesh wreaths (almost have one for every major holiday…still need to make my Easter wreath). I used to crochet, years ago, and would love to get back to that relaxing past time. Painting is also something I would enjoy doing more of, I'm not good at it YET but with more practice, I can be (growth mindset in full effective, lol)
These are just a few of the things I do over the summer months to decompress. They have worked for me and, as you will notice, a common theme is all of them incorporate quality family time. Family time is my utmost priority year round but especially during the summers. I would love to hear from you and know what are some ways you decompress and recharge over the summer? Please comment below with your favorite summer activities.